What Participants Are Saying
"I am quite pleased that I am off the fast-food/ frozen meal merry go round and have lost about 5 pounds without a punishing diet or any real effort. I am eating healthier; less sugar, less salt, and fat, and now remember my krill oil almost every day!" - L.E.
"I realized how easy it is to eat healthy when you meal prep and how satisfying a meal can be by improving the flavor (not the fat). I use to buy healthy produce and put it in my refrigerator and then later look inside and be discouraged because everything needed some sort of prep before I could eat it." -P.B.
"I'm not someone who wants to spend a lot of time in the kitchen. Food is a necessity for me - not a creative outlet. So keeping recipes simple is key for success to me! I'm really enjoying Living Plate as a way to get new ideas and try one new thing a week. This has been fun!" -C.P.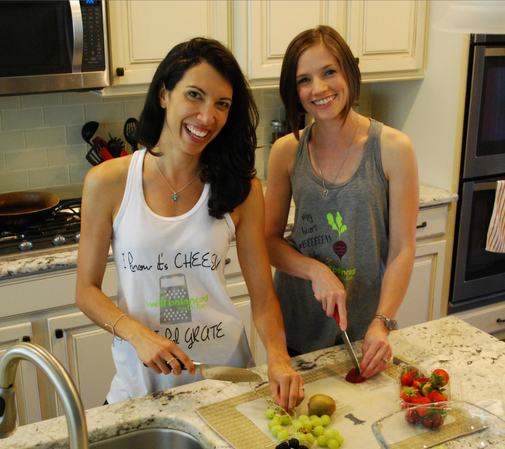 If you struggle with planning ahead, want to meal prep but not sure where to start and feel overwhelmed in the kitchen...then we've got something just for you.
Meal Planning that Works is a step-by-step guide for the overwhelmed and exhausted who
---> want to learn to cook delicious meals in a flash
---> save money on their food budget
---> need flexible and simple strategies
---> and meet their health goals
In this 6-week course + challenge you get:
Accountable and support from like-minded people

Tools that help you plan and cook more efficiently

Simple and quick recipes for any skill level

Insider tips & tricks to mastering meal planning and cooking healthy, delicious homemade meals
We designed this course and challenge specifically for...
People that are ready to tackle meal planning one easy step at a time
People that are ready to embrace change + growth
People that desire a customized meal planning process that works for their lifestyle
People who want to eat more plants and color without going completely vegan
People who may have a few special dietary restrictions such as dairy-free, gluten-free, and are able to make smart substitutions when necessary. 
This won't be your cup of tea if you...
are on a strict diet, such as vegan or keto diets
just want someone else to meal plan for you rather than create your own tailored process with the tools provided
prefer a lot of 1-on-1 support (while 1-on-1 support from Well Balanced Nutrition is an add-on option, it is not part of the course package)
What's included: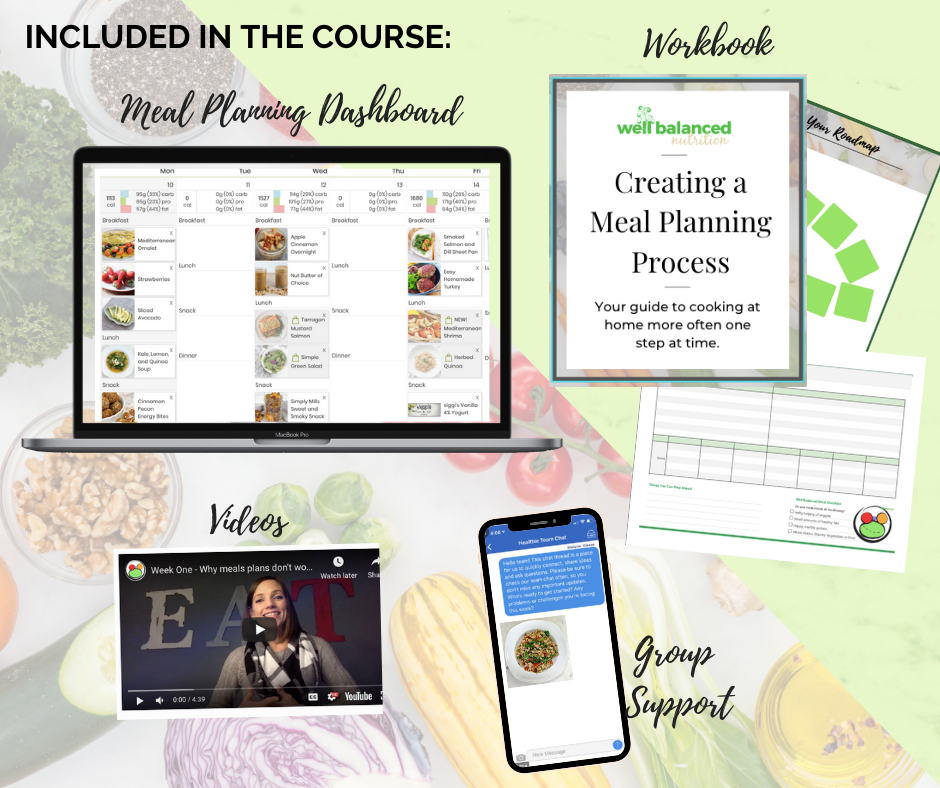 *️⃣ A team of people to hold you accountable for achieving your meal planning goals
*️⃣ Journal prompts that will help you decide on your next best action step each week
*️⃣ Play-in-the-Kitchen challenges that will ignite momentum
*️⃣ Online and offline tools that easily allow you to map out your week
*️⃣ Simple and healthy recipes that are easy to make on a week night
*️⃣ A smart and organized grocery list that is created automatically based on your recipes
*️⃣ A weekly video briefing you on a concept or tool that will help you master meal planning
*️⃣ A workbook with a complete roadmap to meal planning mastery
Are you ready to end the overwhelm with flexible, realistic meal planning tools and
strategies that you can implement one step at a time? Finally, start cooking at home more consistently. Sign up now!