We understand the woes of meal planning...

It's too easy to WASTE your valuable time searching endlessly for healthy recipes that fit your needs. Sure, they look great, but typically not realistic. Why are all the recipes so complicated with long ingredient lists??
It takes time and energy to carefully plot out your grocery list. Or maybe you keep it in your head and then inevitably end up forgetting an item you really need. Ugh.
Planning sometimes is the easiest part. Executing the plan is a different story! Who's going to hold you accountable to making those meals? What happens when you are too exhausted to carry out the full plan?
Even the done-for-you meal plans that do all the work for you don't seem to work out. What gives?
Don't worry. We've got you! We can save you time and sanity and guide you through meal planning that works one step at a time.
The Beginners Guide to Meal Planning that Works 
is a step-by-step guide for overwhelmed and exhausted women who want to cook healthy, save money, and gain control over their health.
In this 6-week course + challenge you get:
A team of people to hold you accountable for achieving your meal planning goals

Tools to organize your meal planning

Access to resources that help you decide what to cook 

Insider tips & tricks to mastering meal planning
Typically, clients invest up to $1000 to get this information 1:1 with a dietitian. You get this for just $197. And the first 25 to sign-up get $50 off.
We designed this course and challenge specifically for...
People that are ready to tackle meal planning one easy step at a time
People that are ready to embrace change + growth
People that desire a customized meal planning process that works for their lifestyle
People who want to eat more plants and color without going completely vegan
People who may have a few special dietary restrictions such as dairy-free, gluten-free, and are able to make smart substituations when necessary. 
This won't be your cup of tea if you...
are on strict diet, such as vegan or keto diets
aren't willing to do the work to create your own process with the tools provided
prefer a lot of 1-on-1 support (while 1-on-1 support from Well Balanced Nutrition is an add-on option, it is not part of the course package)
What's included: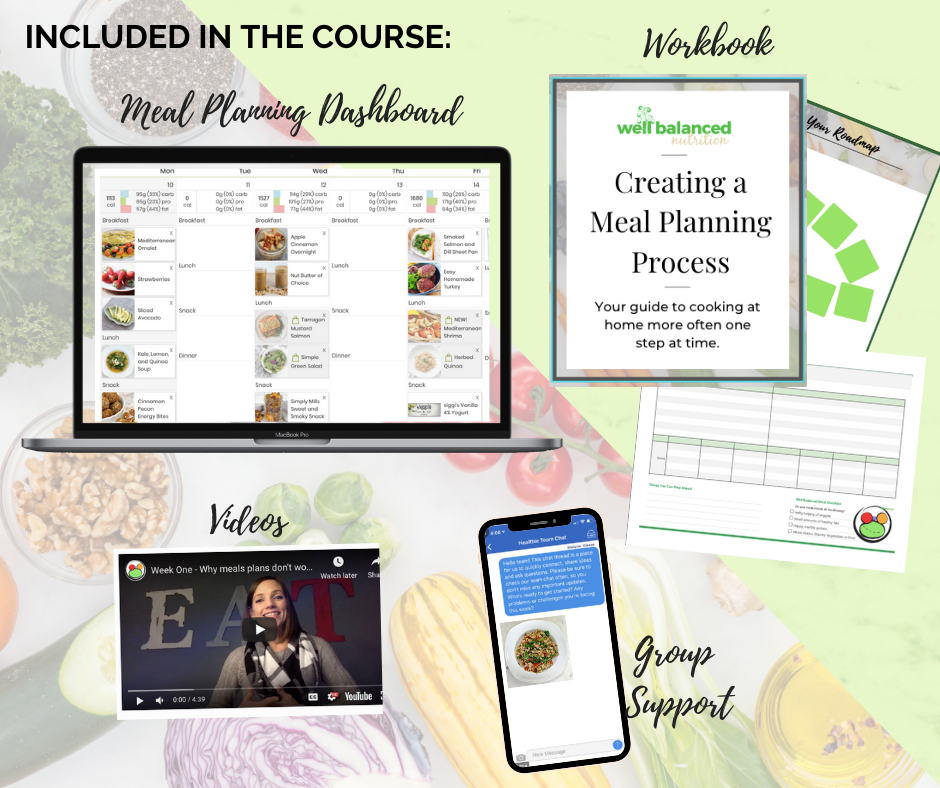 *️⃣ A team of people to hold you accountable for achieving your meal planning goals
*️⃣ Journal prompts that will help you decide on your next best action step each week
*️⃣ Play-in-the-Kitchen challenges that will ignite momentum
*️⃣ Online and offline tools that easily allow you to map out your week
*️⃣ Simple and healthy recipes that are easy to make on a week night
*️⃣ A smart and organized grocery list that is created automatically based on your recipes
*️⃣ A weekly video briefing you on a concept or tool that will help you master meal planning
*️⃣ A workbook with a complete roadmap to meal planning mastery