Your health and wellness often get overlooked while you take care of everyone else. Let us be the ones to nurture YOU.
Keep reading if you... 
want to start eating healthier without completely overhauling your life or trying the newest fad diet
are always running on 'empty' and looking for more energy
feel overwhelmed and unsure of the best place to start
are ready to connect with others who value a well-balanced life
would appreciate support, encouragement, and accountability on your wellness journey
can't seem to find time to attend meetings and see a dietitian
Busy professionals, moms and caretakers, lawyers, teachers and healthcare workers:
We know that you are busy and self-care can be challenging. That's why we offer online programs to support you even in the busiest times. We've taken the best research findings on lifestyle change and nutrition and developed it into solutions that are simple, fun, holistic and effective. There are 5 keys to a successful online program - social support, self-monitoring, regular feedback, structure and tailored support. We have them all but allow you to choose which level of support feels right. 
A tribe that's got your back.
Life is better when we experience it with other people. Feeling connected is important for our health and happiness. In fact, inadequate social interaction has an impact on our lifespan that is equivalent to smoking nearly a pack of cigarettes a day or being an alcoholic and is twice as harmful as being obese. It's no wonder then, that social support is an important factor for making a lifestyle change stick. That's why we offer a fun and friendly private community full of like-minded people who we call the Tribe. When you join the Well Balanced Tribe you will:
Find motivation, encouragement and belonging

Engage in weekly discussion prompts 

Stay motivated with Two-Minute-Tips

BONUS #1: Well Balanced Grocery List and Well Balanced Plate Guide
BONUS #2: Meal Planner Worksheet
BONUS #3: 30+ simple and delicious 'Well Balanced approved' recipes so you can start eating the Well Balanced Way right away. =)
Investment: $0. Although this is an extremely valuable service, we don't want anyone to miss out on this highly important piece of successful change.
Get access to the Tribe and your BONUS materials now!
Healthy Habit Tracker: It's like a nutrition coach in your back pocket.
Self-monitoring is key for any lifestyle change because you cannot change what you do not monitor. For this reason, food diaries are very helpful. But did you know that private record keeping is less effective than sharing with your dietitian? Don't worry, there's an app for that! 
Our Healthy Habit Tracker is an app for accountability and fun!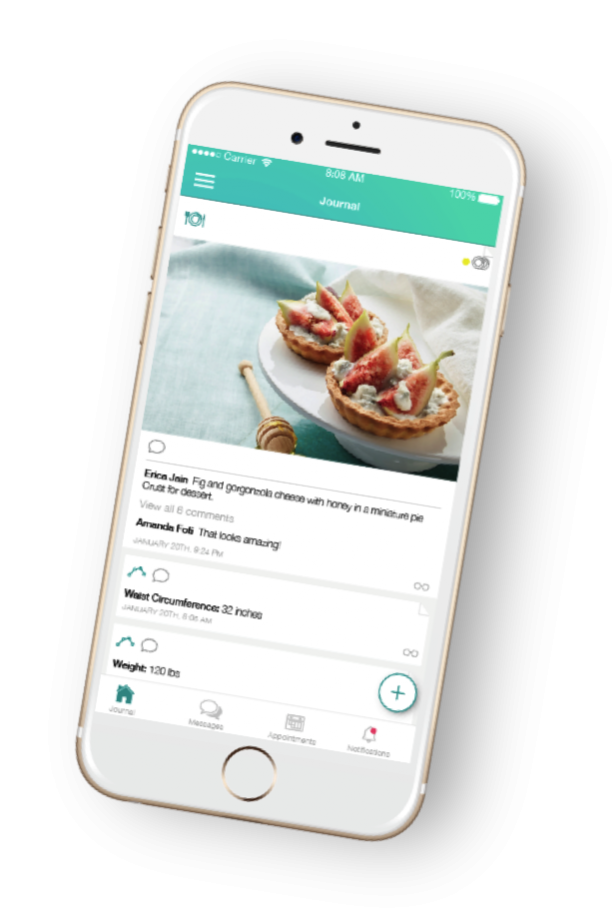 The easiest way to track your habits. No calories or points to worry about here. Simply snap a photo of your meals and snacks. It's that simple! Both you and your dietitian can see your entries.

Get frequent feedback and advice from Well Balanced Nutrition dietitians
Also, take a healthy selfie (aka a Healthie!), track your workouts, rate your hunger and track your metrics.
Investment: only $15 per month ($9 per month for active clients). You may cancel at any time.   
Get access to our Healthy Habit Tracker TODAY! 
Optional add-on: Set yourself up for success by adding a goal setting session with your dietitian. In this one-on-one video chat, your coach will help you set two SMART goals and create a tailored action plan just for you. Investment: $125
Restart, Rebalance: the complete solution.
Restart, Rebalance is the solution for those who are ready to take a deep dive and transform their life. It includes the 5 key components for your success and this option gives you the most support from your dietitian. It's perfect for those who are ready for a truly personalized approach with accountability, structure and support. This is the most effective option if you need to lose weight. It includes:  
A thorough review of your current habits
Goal setting one-on-one video chats where you and your dietitian will choose 2 to 3 'Restart, Rebalance' goals. These are simple and effective action goals based on scientific research. 
Weekly touch points with your coach regarding your progress via chat box or video.
Frequent feedback and encouragement on your food intake and activity level, 
LEARN MORE ABOUT RESTART, REBALANCE HERE